PiCAT Auto & Shop Information Practice Test 2022: Try our free Prescreen Internet Computerized Adaptive Test (PiCAT) US Armed Forces Auto & Shop Information review questions and answers. You can also download the PiCAT Auto & Shop Information Practice Test in PDF.
This PiCAT Auto & Shop Information Practice Test 2022 has 22 questions about automobiles, shop practices, and the use of tools. Pick the best answer for each question.
PiCAT Auto & Shop Information Practice Test
Q1. Most automobile engines run according to the
A. rotary cycle.
B. intake-exhaust cycle.
C. four-stroke cycle.
D. two-stroke cycle.
Q2. When referring to engine configuration; an automobile with a V6 engine means
A. the engine is connected to a 6-speed transmission.
B. the engine has 6 valves.
C. the engine operates on 6 volts.
D. the engine has 6 cylinders arranged in a V configuration.
Q3. The function of the rotor is to
A. open and close the distributor points.
B. rotate the distributor cam.
C. distribute electricity to the spark plugs.
D. rotate the distributor shaft.
Q4. A governor is used on an automobile primarily to limit its
A. rate of acceleration.
B. maximum speed.
C. fuel consumption.
D. stopping distance.
Q5. Automobile headlights are ordinarily connected in
A. parallel.
B. series.
C. diagonal.
D. perpendicular.
Q6. A fuel injection system on an automobile engine eliminates the necessity for
A. a manifold.
B. a carburetor.
C. spark plugs.
D. a distributor.
Q7. A mechanic sets the proper electrode gap on a spark plug most accurately if he or she uses a
A. dial gauge.
B. round wire feeler gauge.
C. square wire feeler gauge.
D. conventional flat feeler gauge.
Q8. When reference is made to the "compression ratio" of an automotive gasoline engine, this is best described as the
A. volume above the piston at top dead center.
B. displacement volume as the piston moves down to bottom dead center.
C. total volume of a cylinder divided by its clearance volume.
D. displacement volume of a cylinder divided by its clearance volume.
Q9. Reverse flushing of a clogged gasoline engine block and radiator cooling system is done properly by
A. not removing the thermostat from the engine block.
B. connecting the flushing gun at the bottom of the engine block.
C. using air and water.
D. using low-pressure steam.
Q10. Ethylene glycol is put into the radiator of an automobile in cold weather because it
A. lowers the boiling point of the mixture.
B. lowers the freezing point of the mixture.
C. raises the boiling point of the mixture.
D. raises the freezing point of the mixture.
Q11. The purpose of the ignition coil in a gasoline engine is primarily to
A. raise the current.
B. raise the voltage.
C. smooth the current.
D. smooth the voltage.
Q12. The tool that is best suited for use with a wood chisel is
Q13. An expansion bolt is used to
A. enlarge a hole.
B. fasten into hollow tile.
C. allow for expansion and contraction.
D. fasten into solid masonry.
Q14. The length of a 10-penny nail, in inches, is
Q15. Glazier's points are used to
A. hold glass in a wooden window sash.
B. scratch glass so that it can be broken to size.
C. force putty into narrow spaces between glass and sash.
D. remove broken glass from a pane.
Q16. A wood screw that can be tightened by a wrench is known as a
A. lag screw.
B. carriage screw.
C. Phillips screw.
D. monkey screw.
Q17. The reason that a lubricant prevents rubbing surfaces from becoming hot is that the oil
A. is cold and cools off the rubbing metal surfaces.
B. is sticky, preventing the surfaces from moving over each other too rapidly.
C. forms a smooth layer between the two surfaces, preventing their coming into contact.
D. makes the surfaces smooth so that they move easily over each other.
Q18. The tool below is used to
A. set nails.
B. drill holes in concrete.
C. cut a brick accurately.
D. centerpunch for holes.
Q19. Wood ladders should not be painted because
A. paint will wear off rapidly due to the conditions under which ladders are used.
B. ladders are slippery when painted.
C. it is easier to store an unpainted ladder.
D. paint will hide defects in the ladder.
Q20. The tool shown below is used to measure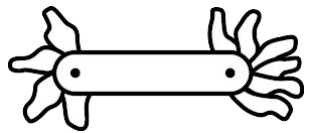 A. clearances.
B. wire thickness.
C. inside slots.
D. screw pitch.
Q21. A lathe would normally be used in making which of the following items?
A. A hockey stick
B. A picture frame
C. A bookcase
D. A baseball bat
Q22. The term "whipping" when applied to rope means
A. binding the ends with cord to prevent unraveling.
B. coiling the rope in as tight a ball as possible.
C. lubricating the strands with tallow.
D. wetting the rope with water to cure it.